Fire escape ladder
Fire escape rope ladders are a rope fire escape solution that can be applied quickly to a Velux window, standard window or balcony in the event of fire.
A fire escape ladder is used to climb down from any type of high window, balcony or rooftop and can be used for both residential and commercial buildings offering a much safer alternative than jumping.
A rope ladder for fire escape can be attached to windows and balconies of most high rise buildings. They are simple to attach and detach as needed and will let you leave a building quickly either due to a disabled lift or blocked staircase during a fire emergency.
Fire escape ladders give you peace of mind and are always there when you need them but don't occupy valuable space.
Fire escape ladders also offer many other benefits:
They reduce the risk injury or death by providing an alternate means of escape;
They could provide another means of entry for firefighters;
They help prevent injury from avoiding the need to jump and hitting the ground;
There's no need to worry about storing them as they take up minimal space when not being used.
Residential fire escape ladders can be used during fire emergencies when a fire prevents occupants from exiting down a staircase or designated fire exit.
We look at a couple of great examples below but if you want to look at them now, the SmartWares Fire Escape Rope Ladder can be found here, and the SOP Emergency Fire Escape Ladder can be found here.
Rope ladders for fire escape
Fire escape rope ladder
A rope ladder for fire escape can be used during both fire emergencies and as part of general fire precautions to allow for an alternate means of egress if needed.
Until that event, they are easy to keep stored away until the unthinkable happens.
Fire escape ladders are typically made from either nylon or polyester, both strong materials that won't break or degrade easily.
Alternatives include steel fire escape ladders which may be cheaper than their fibre counterparts, but tend to be bulky and difficult to store.
Fire escape rope ladder – 2 Storey
Fire escape ladders are available in various lengths however generally, a 2 storey rope fire escape ladder will be approximately 4.5 to 5 metres in length.
As a rule, these fire escape ladders should also be fire rated and comply with the same European standards as other fire safety equipment. It is always worth double checking.
They can be used for both commercial premises and homes or apartments. You just need to decide where you'd like to install your fire escape ladder.
You have something like a Combination ladder handy for internal home maintenance but it may not be suitable.
Typically, this will be on either side of a building near an exit on the upper floors ideally. A fire escape rope ladder should be easy to climb down, even when full of people or items from a home or office during evacuation.
In many cases they will take up little space once installed, meaning there's no real reason not to have one around.
Fire escape ladder – 3 Storey
Ideally, a fire escape ladder for a 3 storey building should be approximately 7.5 to 8 metres in length. It should also, like above, be situated near a window or balcony on the upper floors of any multi-story building.
A fire escape ladder with larger rungs spaced apart will also allow for easier climbing down by children that may live with occupants.
Fire escape ladder for Velux window
If you're looking for a fire escape ladder for a Velux window, a rope fire ladder is what you'll need. These fire escape ladder kits come with everything you need to install your fire escape rope ladder in just a few minutes.
Velux windows and balconies are relatively common, so fire escape rope ladders can be installed safely and take up minimal space. It's also easy to remove them when they're not in use.
You will possibly need to install some anchor points near or around the Velux window to attach the rope ladder.
This will most probably be in the form of a carabiner on the rope so you'll need what is called an 'eye bolt'.
The alternative is to purchase a fire escape ladder that comes with a hook over type bracket or frame as pictured here.
This type is perfect for Velux windows as the bracket or frame will hook over the bottom of the Velux window. Just remember to check the width of the rope bracket and the width of the Velux window.
You don't want to have an emergency and find the bracket is too wide for the window.
Emergency fire escape ladder
Here are some of the better fire escape rope ladders we've found:
Smartwares SW BBVL , Fire Escape Ladder, 4.5 m, 450 kg Capacity, Reusable, Red
What we like:
Amazon Choice
450 Kg load capacity
Universal window attachment
Slip resistant treads
Re-usable
What could be better:
Can be fiddly to re-pack the treads neatly
The Smartwares Fire Escape Ladder is built with a strong steel frame and can support a 450kg capacity which means several people can use the ladder at the same time.
It also comes with a universal window attachment and will easily attach to any window frame up to 9cm. This is perfect for the Velux window situation we touched on earlier.
The ladder sports a 'tangle free' roll out system and simply attaches to a windowsill. You just pull the Velcro strap and the ladder falls to the ground ready for use.
The distance between the steps is 33cm which suits adults and children. The steps also feature stabilisers which help the ladder grip to the wall.
This product is a perfect all rounder and will suit most, if not all 2 storey situations .
SOP Emergency Fire Ladder for 4 Story Homes 32ft (10m) Flame Resistant Fire Safety Rope Ladder with Carabiners & Safety Belt
What we like:
Suitable for 3 and 4 storey heights
Comes with an additional safety belt or harness
Perfect for balcony railings
Has a 900 Kg capacity
What could be better:
Window hooks are available but are extra
We like this product because it's designed for a 3 and 4 story emergency to provide you with a safe and reliable way to get out through the window in case of a fire.
The heavy duty carabiners and its 32 ft length can be used on most window frames making it perfect for apartments and higher storey houses.
There are hook attachments available and attach to the heavy duty carabiners.
These allow you to hook the escape ladder over a window cill however, they have to be purchased separately. No assembly is needed, they are lightweight and easy to carry.
These escape ladders come with the option of a safety belt or a harness and attach to the carabiners on the safety cord reducing the risk of slipping and falling.
Its compact and lightweight design means it can be easily grabbed and stored under your bed without taking up too much space.
How do I lower my small child or pet from a fire?
ISOP Fire Evacuation Carrier for Pets or Kids up to 150 lbs / 68 kg – Emergency Escape Bag Through Windows or Balcony Rope 50 ft / 15 m & Carabiner
What we like:
Comes in 2 sizes: Medium 34Kg & Large 68 Kg
Comes with 15m of rope
Stores in a small place
What could be better:
The square holes could be too large for very small pets
Very often when you think about buying an escape ladder because you live higher up than usual, you may forget about how you'll manage to lower a small child or beloved pet that can't climb a ladder.
We love this product and wanted to put it forward in case it skipped your thoughts. Just unfold this easy to use fire emergency basket and waste no time in lowering a small child or pet in case of a fire.
This life saving fire emergency basket comes with a handy storage pouch for easy storage.
Final thought
A fire escape ladder is an essential item to have for those living in taller houses or apartments.
If you rent or your house has multiple levels, it's important to make sure that the building you live in can accommodate one of these ladders before moving forward with any other plans.
Remember, ladders should be inspected and maintained regularly so they will function properly when needed most.
You should think about purchasing one today if this sounds like something that would benefit you or someone close to you.
For slightly shorter heights but still too high to jump, you can further read our article on Telescopic ladders here!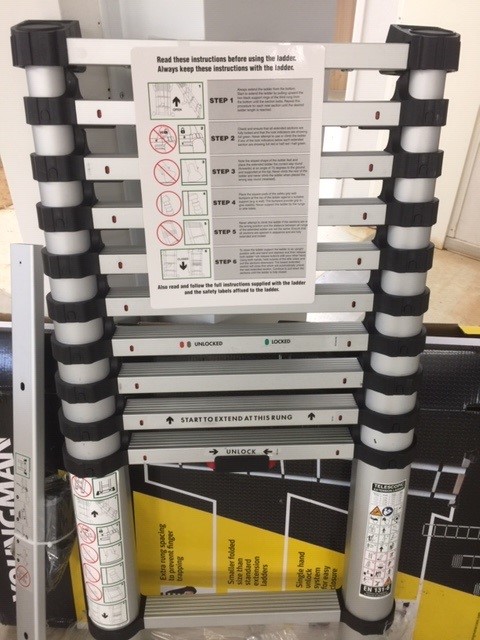 Presenting, The Telescopic Ladder
The ingenious Telescopic ladder could be the only ladder you'd ever need. Easy to store, use inside and outside and easy to transport!