If you have energetic and enthusiast children who love to use a garden trampoline, you can expect at some stage to need to replace the access ladder or steps up to it. This could be due to a number of factors.
A cracked or broken tread could be caused by a larger or older child using the ladder or even a huge storm lifting he whole thing and it disappearing totally!
Trampoline ladders also have plastic components that when left exposed to the elements outside, can become brittle and weakened.
When this occurs, the trampoline ladder will break and be unsafe to use.
If you notice any cracks or damage in your trampoline steps or ladder, it is important that you replace it as soon as possible.
If your trampoline does not have a trampoline ladder, make sure children never attempt to climb onto the trampoline without adult supervision. This will reduce any accidents from broken bones to cut feet from sharp plastic cracks.
Trampolines with a ladder fitted are also safer than those without ladders. This is because they offer an additional safety barrier for younger children who may try to get on and off by themselves – even if they know how!
The best option when using a trampoline is always for there to be an adult supervising play at all times. Kids also love rope ladders and are a great fun addition to any garden.
Read our article on rope ladders here.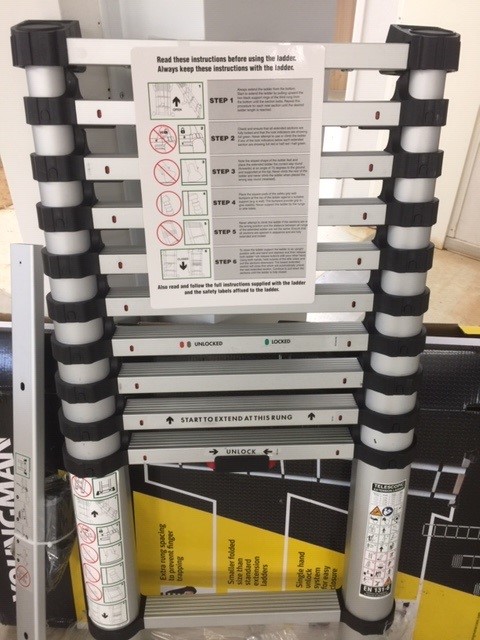 Presenting, The Telescopic Ladder
The ingenious Telescopic ladder could be the only ladder you'd ever need. Easy to store, use inside and outside and easy to transport!
In cases of trampolines with ladders, attached trampoline steps should always be the preferred way to access the trampoline.
If you choose not to use trampoline ladder or steps on your trampoline, children MUST NOT climb up independently under any circumstances.
If you remove the ladder completely, make sure that there is no way for young children to get onto the trampoline at all – even if they do know how to jump safely!
It might seem like an easy decision (no trampoline ladder attached) but there are many reasons why not using a trampoline ladder could lead to serious accidents and injury.
It's important never to leave your trampoline without one unless there is someone supervising play at all times.
Access to a trampoline can be limited by the use of a safety net around the trampoline. These usually have a zipped opening which is where the ladder or steps will be located.
If you haven't purchased a trampoline yet or you are looking to replace an old one, you can find competitively priced ones complete with ladders over on Amazon here.
Trampoline steps
Trampoline access can come in a couple of varieties. You can go for trampoline ladders or trampoline steps.
Usually, the ladder types will have thinner bars acting as the treads. This can sometimes be more uncomfortable under foot, especially little feet.
This can be compounded if children are playing in the garden with bare feet, as children love to feel the ground under foot!
If you have ever seen small children climb a ladder with thinner treads, it takes longer as they negotiate the bars digging into the arches of their soft feet.
The other type of trampoline access would be trampoline steps. They are essentially the same however instead of thinner bars, they have deeper treads like a step ladder in fact.
These deeper treads much is much easier and more comfortable for children to climb. This will give them the increased confidence when accessing the trampoline which will then increase the fun as it's one less thing for them to worry about.
The Combination stair ladder!
The combination stair ladder not only has the flexibility to adjust to suit your stair type, it's combination types are perfect for all those inside and outside jobs!
Do I need a ladder for a trampoline?
The answer is probably….yes!
To be ultimately safer, especially for younger children, it's best to have a designated access point so they don't struggle getting onto the trampoline.
We all know that children seem to be able to climb things like a primate but avoiding any potential accidents must only be a good thing.
Trampoline access can be found for most sizes including 8ft trampoline ladders and 10ft trampoline ladders.
How does a trampoline attach to a trampoline?
In its simplest form, a standard set of trampoline ladders or steps will hook over the main metal ring on the body of the trampoline.
The hooks are formed as a solid part of the ladder and the hooks are deep enough so they will not get pulled away from the trampoline when they are being climbed.
Trampoline accessories
Many other accessories can also be found for trampolines which as you can imagine, the children absolutely love! They are not necessarily access related accessories but fun nonetheless!
There are really multi coloured lights that can be attached around the safety net at high level to really great summer fun water sprinkler attachments!
Here are some of the fun ones we've found that may interest you!
Take a look at some trampoline accessories over on Amazon here.
Trampoline ladder and Trampoline steps suggestions
Greenbay Outdoor Garden Patio Trampoline Ladder
What we like:
Very reasonably priced budget option
Great customer feedback
What could be better:
Does need minimal assembly
Has thinner rungs, not treads.
This is a great budget option if you're looking for a simple ladder that will do the job. Simply attach the sections and hook over your trampoline!
SONGMICS Non-Slip Trampoline Ladder
What we like:
Has proper non slip deep treads
Simple assembly
What could be better:
Well designed. Hard to find a drawback!
We like this ladder as it has proper treads making climbing more comfortable. Assembly is very easy and fits all trampolines up to 90cm high.
Final thoughts
So, not having a ladder connected to your trampoline could have some safety implications. By having one attached, this will avoid small children having to awkwardly climb onto it and potentially falling.
It best practice for everyones peace of mind to have one attached.
If you already have one that is getting old, also check it to see if any plastic components have gone brittle and fragile. This may need to be replaced if you're concerned about little tiny feet!
If your little ones also have bunk beds, we have an article on replacing bunk bed ladders here.