Telescoping step ladder
Telescopic ladders are designed to extend from a short working height to an extended reach. There are three main types of telescopic ladders: straight-section, segmented and articulating.
They can be used for both indoor and outdoor jobs but cannot be used on uneven or slanted surfaces. In fact, one job they are perfect for is cleaning a caravan roof. They can even be taken with you. You can read our helpful article on cleaning a caravan roof here.
The most popular type is the segmented design which comprises of several segments and extends by pulling out each section one at a time until it reaches full extension.
It can also be folded up very small so as not to take up too much space when not in use. This does come with a weight disadvantage though as it weighs twice as much than its similar sized counterpart.
The telescopic segments usually lock into place when extended with a decisive 'click'. Care must also be taken when collapsing telescopic step ladders as they need to be collapsed from the bottom first. This means that the weight of the upper sections help the collapse but fingers can be trapped if not executed properly.
A telescoping ladder is easy and fast to set-up since it does not require any pins or tools. Another great application for telescopic ladders is accessing a car roof box.
Because they reduce in size, they can even be taken with you on your trip! In fact, you can read our further article on some great ways on how to reach your car roof box here.
Are telescopic ladders safe?
Telescopic ladders are relatively safe when they're used properly. However, there are a few risks involved with this type of ladder that necessitates the need for care and caution when carrying out any work at height. The main hazards associated with telescopic ladders include:
Users may not have a good enough knowledge of how the ladder is assembled and how to use it safely
Users may forget to lock the sections when they are extending either upwards or downwards
Damage to the ladder during use can lead to pieces falling off or breaking off completely
Are telescopic ladders any good?
A telescopic ladder is a great tool to have in any home. A telescopic ladder has sections that telescope into each other so you can set it up as a full height ladder or even lower the telescoping top part and use it as step stool. Telescoping ladders are really versatile tools that everyone should own.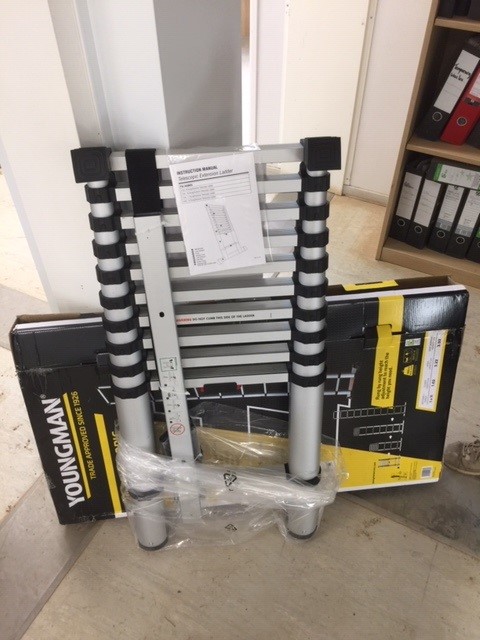 A telescopic ladder is useful for many things around the house including painting ceilings, washing windows, changing light bulbs, dusting off fans, and much more.
When you're done with your telescoping ladder, you can always collapse it down and store it away. The telescopic ladder is much smaller than other fixed types.
Many people walk past telescopic ladders in DIY stores assuming that they are useless because they look flimsy and short. However, telescopic ladders can be used to reach a great height safely, even arguably higher than an ordinary ladder.
For example, telescoping ladders can be extended up to 24 feet high. This makes the telescopic ladder perfect for painting outside of your home or cleaning gutters.
Because telescoping ladders can fold up into such a small size (about 1/3 their unfolded size), they are easy to transport and store. Instead of lugging around an unwieldy regular ladder, you could just keep one telescoping ladder in your garage and another in the boot of your car!
What MUST be remembered is that by their nature, telescopic ladders will not feel as sturdy as a set of fixed length ladders. This doesn't mean they are unsafe, it just means they need getting used to when climbing them.
Aluminium telescopic ladder
Telescopic ladders are mostly made from aluminium to reduce their weight and for ease of manufacture. Telescopic aluminium ladders provide a safe and reliable way to climb up to heights where step ladders cannot be easily placed. They can also be used as staircases for reaching ceilings and roofs or for work on steep slopes.
These ladders are also a great addition for cleaning a typical household or conservatory window. If you need to access a conservatory roof safely, you can further read our article on cleaning conservatory roofs here!
One great use of this type of ladder is in the event of fire. They can be used if you live at a height where the ladder is perfect for fire escape. For higher dwellings or 3 storey's, you can further read our article on rope fire escape ladders here! It could save your family!
How to use a telescopic ladder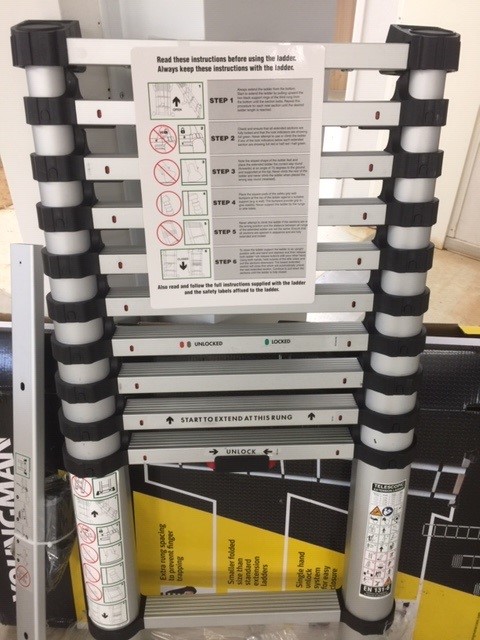 You extend a telescoping ladder by pulling the telescopic section of ladder away from the bottom. This is done usually by pressing down on the bottom tread and pushing next telescopic section upwards away from you.
Continue to extend a telescoping ladder by applying weight directly downward until all sections have reached full length. The steps below outline further
Step 1 – Pull Telescoping Ladder Away From Bottom
Stand with your feet shoulder width apart while holding the telescopic ladder in one hand, and pull the entire telescopic section away from the stationary base of unit to extend it.
A locking pin may be activated as each new telescopic section extends, keeping that part of the ladder extended until additional sections are telescoped out.
Step 2 – Push telescoping Ladder Away From You (If Applicable)
Use a ladder levelling device to level telescopic ladder on the top landing surface if it is not already in a level position before pushing telescopically extending section away from you. Apply direct downward pressure until telescopic ladder sections reach full length, using an amount of force that makes each telescopic section lock into place when extended.
These are some of the best telescopic ladders we could find:
Telescopic ladder 5m
Telescopic ladder A frame
AutoBaBa Multi-Purpose Aluminium Telescopic 'A' Frame Foldable Ladder
What we like:
Has an 'A' frame option
Max load capacity of 150 Kg
Easy to carry around
Amazon No.1 best seller
What could be better:
Only extends to 3.8 metres
This telescopic ladder is a really useful addition to any household. Comprising of a 3.8m (12ft 5″) foldable telescopic style climb ladder with an anodised aluminium finish. It's foldable design is convenient to use and easy to carry around. A great helper for both indoor household use and outdoor tasks.

It has rubber feet fitted to protect internal flooring and also give maximum safety by increasing grip. It feels safe and compact. A black anti slip rubber sleeve on the bottom of ladder step and stable locking add to it for safety.
A clever and new alternative to conventional ladders, these telescopic ladders have many applications around the house.
The ladder opens and closes "step by step", meaning that it can be used at multiple heights up to 3.8m.
Therefore you open only to the height required giving great manoeuvrability, particularly in small spaces.
6m Telescopic ladder
6.2M/20.35ft Aluminium Extension Telescopic Multi-Purpose Ladder
What we like:
Extends to 6.2 metres
Max load capacity of 150 Kg
Comes with top hooks
Anti slip rubber feet
What could be better:
You need to watch your fingers collapsing the sections
Spacing between the rungs
This 6.2 metre ladder also comes with safety roof hooks, is lightweight, easy to carry, and great for loft access. It's extended height means that window cleaning and higher building maintenance tasks are within reach. Features boast that this ladder is very practical, lightweight and functional.
It's easy to move around and space saving when stored. It's lightweight aluminium design and well designed mechanism comes with safety in mind. Each rung, except the top and bottom rungs feature a pair of slide latches to lock the rungs into place before the ladder is safe to climb.
Having a maximum load capacity of 150kg (330 lbs), it'll stand up to most people's weight. Its adjustable height allows the user to adjust the height of the ladder to fit their specific job requirements. The high quality aluminium alloy material makes it feel safe and stable.
It's well worth a second look.
3.2m Telescopic Ladder
Nestling 10.5ft/3.2M Aluminium, Telescopic Ladder
What we like:
Amazon Choice
Comes in various sizes
Only weighs 9 Kg
Max load capacity of 150 Kg
Retraction is a one hand process
What could be better:
Just need to to watch your fingers when retracting
This lightweight and stable telescopic ladder is made from 1.5mm aviation grade aluminium. Its 46mm sleeve connection design means that there is no shaking at maximum extention. With a maximum load bearing capacity of 150kg, it should more than cope with most people. Weighing only 9.4kg, it's very easy to move and carry.
Its height is adjusted freely by using a multi level switch which is convenient for use in small spaces such as the attic and avoids the risk of folding caused by a mistake.
In order to extend it, just pull a section up, hear the "click" sound and check both left and right locks are in place. For retraction, it's a one-hand process. Unlock one step and it will retract. Remember, do not put your hand in the step spacing!
This short telescopic ladder is robust and perfect for indoor and outdoor tasks like window cleaning, garden work and loft access. This ladder should be considered as an additional part of your tool kit!
Final thoughts
You may never know when or where you'll need a ladder. If that time comes and you don't have one, it can be quite inconvenient to find your way around looking for the perfect solution. That's why want to tell you about telescopic ladders! Portable ladders are designed with convenience in mind. They collapse down into an easy to carry size and come out ready to use.
They can also extend up to 12 feet high so they'll reach almost most places without having to worry about getting on somebody else's roof (always check first!). Once you've finished, just fold them back down again until next time! We hope this blog post has helped you to welcome more choice.
Think about investing in at least one telescoping model as part of your tool kit today! The investment is worth it when you consider all the different types of projects it will help with. It's lightweight and easy to carry from job site to job site which makes them an ideal solution for any homeowner who wants access anywhere he needs it.