What does MEWP stand for?
A MEWP is an acronym that stands for Mobile Elevating Working Platform. The purpose of a MEWP is to provide a protected, safe temporary working platform that people can stand in which is powered and easily moved or adjusted for height and reach.
They are easily moved around and relocated to new work areas via powered wheels. This can either be from a diesel engine or electric batteries.
They are particularly useful in providing elevated access where due to circumstances, a ladder would be inaccessible or an operative would be too high to work safely, and a scaffold would be impractical or inefficient.
The tasks are very often evaluated by means of accessing time and cost. Sometimes the time cost aspect is more valuable than the actual cost of the equipment.
This could typically be a deadline that has to be met to complete works before costly over runs are incurred.
Mobile Elevating Working Platforms vary considerably in their sizes and what they can achieve in terms of height and reach.
They can range from quite small one person machines with an approximate safe working load of 120 Kg and a working height of 3 to 4 metres, to machines that can provide much larger working platform sizes and have safe working loads of sometimes more than 1000 Kg.
Some Mobile Elevating Working Platforms can exceed 100 metres when the boom is extended for height and other machines can achieve nearly 40 metres in reach.
Before a MEWP is hired, the task should be subject to a Risk Assessment and then as a result, a Method Statement produced mitigating any risks.
A separate MEWP survey should also be carried out by a competent person. The competent person will take account of the closest place the body of the MEWP can be located to the task, the reach which will be needed and the weight in the basket to be boomed out.
This will determine the size of the MEWP needed by what is called a "Duty" chart.
A "Duty" chart is a diagram that will indicate the amount a MEWP will boom out in relation to the weight in the basket. As a rule, the heavier the weight in the basket, the less distance it will be able to boom out.
In some smaller, less complicated situations, a mobile tower scaffold could approach the task. You can further read our guide on mobile tower scaffolds here.
We also have some accompanying access tower articles. You can read our article on why you would choose a fibreglass and GRP tower here and article about steel tower scaffold here.
MEWP maintenance and periodic testing will be carried out by the hire company and by a competent person. A brand new machine will not need a period check until it's 12 months old.
As it's a machine that lift persons, the periodic check for the hire company thereafter is every 6 months.
(This is determined by LOLER Regulations, the Lifting Operations and Lifting Equipment Register which is set in law) A MEWP however should always have a pre-use check before every shift to check for any defects.
This should be done by the MEWP operator who should be trained, qualified and thus a competent person.
The Combination stair ladder!
The combination stair ladder not only has the flexibility to adjust to suit your stair type, it's combination types are perfect for all those inside and outside jobs!
Types of MEWP
Scissor lifts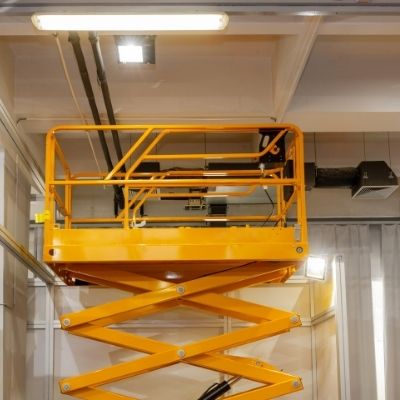 Scissor lifts are MEWP's that essentially just travel vertically up and down. They are called scissor lifts because of the they way look in relation their mechanism.
These MEWP's can be powered by an engine or by electric batteries which will obviously need charging periodically.
It may seem obvious but well worth mentioning that the electric versions are usually used inside buildings or confined spaces due to them not emitting exhaust fumes and causing massive health issues.
The combustible engine varieties are used externally where any exhaust fumes can be expelled without causing any immediate health problems.
Some variations of scissor lifts can have an adjustable working platform that can slide out, albeit to its design limitations.
This can help in some circumstances where the main body of the scissor lift cannot manoeuvre in close enough. The working platform can then be moved closer to the task face.
Vertical lifts
In a similar way the scissor lift, vertical lifts basically travel only up and down. They usually will not have any further adjustment on the basket. These usually are quite small, electrically powered and used inside buildings.
They are typically used to access to tall racking systems and are lightweight so to access lighter goods on racks at height. They can also have lightweight platforms on them to rest boxes on so the operator has free access to the controls.
Telescopic booms
Telescopic booms are the types of powered access that typically people think of when discussing access at height.
This type of MEWP access equipment is commonly referred to as a "cherry picker". This type of access consists of four wheels on a chassis and the main body on top.
This acts as the main counterweight to the extending boom and basket.
They can also come in certain variations that will suit different types of terrain. This type of access will most definitely be powered by a diesel engine.
A telescopic boom will have the advantage of being able to travel out the basket both for outreach and height. These can be manoeuvred in quite fine increments and because the boom itself is telescopic, it slides in and out smoothly.
This means that the basket can be positioned very close to a structure that you need to access.
Very often, depending on the telescopic boom type, the basket will have the option to be able to swivel or pivot horizontally. This provides extra flexibility to get you into the exact position you require.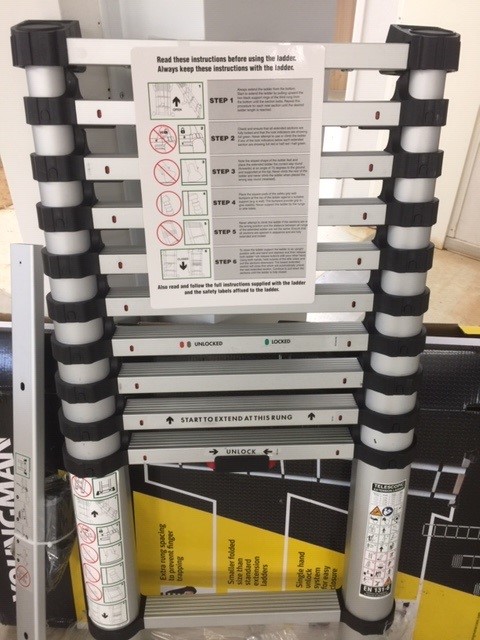 Presenting, The Telescopic Ladder
The ingenious Telescopic ladder could be the only ladder you'd ever need. Easy to store, use inside and outside and easy to transport!
Articulating telescopic or multi-boom articulated
This final type of access equipment is the most complicated and specialist type.
Similar to the previous telescopic boom type, this type of powered access can also be mounted onto a specially converted truck base with hydraulic outriggers.
The outriggers when fully extended, (which in the industry is known as being fully blocked) massively increases the base footprint.
They can also be mounted on a "crawler chassis". The main difference with these types is that a section of the boom will have an extra pivot or "elbow" so the boom sections after the pivot can bend giving even more flexibility of movement.
This does require an extraordinary amount of skill and does command some intensive training to become a competent operator.
MEWP Training
As you would of probably guessed, in order to operate any type of powered access equipment, training will be needed to be undertaken and passed.
This will prove that the operator has gained the necessary skills to be classed as a competent person.
The accreditation and body that mostly deal with this is IPAF. (International Powered Access Federation)
Once training has been completed and passed, the competent person will be issued with a PAL card. (Powered Access License)
Training can be found nationally in the UK but care must taken to ensure that the training centre is IPAF accredited.
Training will usually consist of making sure that the student is familiar with carrying out pre-use checks and daily maintenance before carrying out any work. They will also learn how to operate the equipment controls in the correct safe way.
They will also learn emergency procedures and how to determine the capabilities and limitations of a machine from the manufacturers instructions and duty charts.
Learning the correct procedures for wearing and attaching safety harnesses will also be covered.
MEWP Training summary
When training is being undertaken, the main areas will include:
Planning and use of MEWPS
Entrapment of people on the platform
Emergency procedures
Prevention of overturning
Fall protection and restraint
Work over or near to water
Restricted or enclosed spaces
Use of MEWPS in public spaces
Maintenance, checks and inspections.
Final thoughts
In this short article, we have covered what a MEWP is, the different types of MEWP you might see or come across and touched on the typical training and governing body that is needed to be able to operate this type of equipment.
The idea behind this article was to give you a brief overview of powered access. We hope it's been of use.