Staging boards
Youngman boards or staging boards are narrow platforms that span between two fixed points like a scaffold, aluminium tower or step ladders.
They are used to walk on and provide a wider and longer access at height.
A typical scenario would be having two scaffold towers on two ends of a house.
The Youngman board is then spanned across these two towers allowing you to walk between the two towers at high level.
This is very useful when carrying works like replacing plastic fascias, soffits and guttering. The advantages are that you don't have to keep moving a ladder and you also will have both hands free.
It's also a lot safer than working from a ladder carrying out the same task. Very often, Youngman boards are used in conjunction with builders trestles. You can further read our article on builders trestles here.
Youngman is a trade name from the "Youngman" company and is synonymous with providing access systems and access components of a quality that is suited for the robust nature of the construction industry.
Youngman boards are commonly known in general terms as "Staging boards", however, because the company is so well known, they are commonly referred to throughout the construction industry now as "Youngman" boards, as a vacuum cleaner is commonly referred to as a "Hoover".
Youngman staging boards
A Staging board or Youngman board is made from lightweight aluminium for its main structure.
This allows it to remain strong and rigid whilst reducing its overall weight. The top platform to the Youngman board is generally made from tough timber ply board.
Very often, the ply board is sealed and coated with a slip resistant coating to help minimise slips.
Staging boards can come in various lengths and generally increase in length by 600mm increments which is described as a "modular" size within the construction industry.
Modular sizes within the construction industry can start a low as 75mm which happens to be the thickness of a standard brick and a cement bed joint.
They then typically increase to 150mm, 300mm, 450mm, 600mm, 900mm, 1200mm etc. (plus anything modular in between divisible by 75mm)
The Combination stair ladder!
The combination stair ladder not only has the flexibility to adjust to suit your stair type, it's combination types are perfect for all those inside and outside jobs!
Youngman staging board lengths typically start at 3m long and then increase to 3.6m, 4.2m, 4.8m, 5.4m and 6.0m. They can also make it up to 7m in some cases.
Youngman board widths are generally either 450mm or 600mm wide depending on their length.
So how much weight can a Youngman board take? The typical loads a Youngman board can take is about 300Kg which is approximately 3 people.
It must be stressed however that any loadings must be subject to the manufacturers instructions as some intermediate supports may be necessary and loads will need to be evenly spaced along the board.
Additional supports will reduce the amount a lightweight staging board will flex under load. Again, a typical scenario of this situation will be lightweight staging boards placed on top of builders trestles giving a much longer work face, like a long wall.
Remember we spoke about modular sizes earlier? The typical widths of builders trestles are either 900mm or 1200mm.
This will mean that either two, 450mm wide staging boards or two, 600mm wide staging boards will fit on them perfectly!
Youngman staging boards can also differ in thicknesses. The shorter boards will be approximately 70mm thick and this will increase to 100mm for the longer boards.
This increase to the frame depth is to reduce the flex and increase the loading capacity.
Youngman board with handrail
In a construction site situation, anything over 600mm in height will need a handrail. This mainly for Health & Safety on my site, as with many other sites.
In a domestic situation however, these rules do not strictly apply and a homeowner or "jobbing" casual builder is technically free to put themselves at risk of a fall if they want to.
As a senior site manager, I cannot allow this to ever take place on my site as any risks would have been assessed and a method statement produced beforehand.
Even in a domestic situation, it really is a good idea to also assess the risk and decide if you need a handrail in place to prevent you from having a fall from height.
Therefore, it's a good job that Youngman also produce a purpose made handrail or guardrail system.
The handrail system latches and clamps onto the Youngman board main frame and provides the facility for a double handrail to be attached.
An additional feature includes a retaining clamp to attach a "toe board" at low level.
The toe board will provide additional safety by stopping any materials from being accidentally kicked off a staging board at height and landing on someone causing an injury.
The handrail system frame bracket and handrails are also made from lightweight aluminium so they remain strong but reduce the overall weight of the complete system.
Staging boards or Youngman boards uses
These boards can be used for a variety of purposes. As previously mentioned, they can be spanned between two towers with a handrail attached and be used to access a long face of a building.
This avoids having to move access equipment and speeds up a job.
They can also be used as ramps for wheel barrows for example. We very often use them to access the front doors of my plots when screeding the ground floors.
Very often the ground level outside the plot can be quite low so we use Youngman boards to provide a safer access for the screeders by placing on the door thresholds.
Groundworkers also use them to span service trenches or foundation trenches after they have been dug.
Other uses include using them as a ramp to a builders skip. This happens more often in a domestic situation as this wouldn't be allowed on a construction site!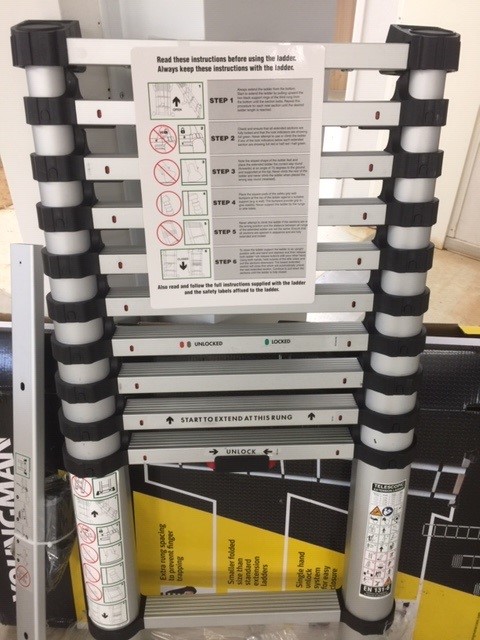 Presenting, The Telescopic Ladder
The ingenious Telescopic ladder could be the only ladder you'd ever need. Easy to store, use inside and outside and easy to transport!
Crawling board
Youngman boards when used in a roofing situation can also be commonly termed as crawling boards or crawl boards. They tend to used in very specific situations.
These can include when a building has a fragile roof covering which cannot take the point load of person without breaking.
A crawling board will be spanned between the load bearing points of a roof structure and allow you to either walk or "crawl" to the place where a task or any maintenance needs to be carried out.
Youngman board and staging board summary
So, we have spoken about what these boards are, what they made of and what their purposes are. They are very widely used in the construction industry for a number of varying solutions.
The reason Youngman boards are used in the construction industry is because of their robust nature and build quality.
We hope this short article on staging boards has been of use.