Step ladders with safety rails
Today, step ladders are used in many different industries. They can be the perfect height for most tasks depending on your choice, whether it is hanging pictures on a wall or changing light bulbs.
But one of the most overlooked benefits of step ladders is safety!
When you have a step ladder with handrails, you reduce your risk of injury or falling while completing these projects. This can be very useful in higher situations like cutting tall hedges.
In fact, we have an article on tall ladders for cutting hedges here.
In this blog post, we will explore some reasons why having handrails on your step ladders can be safer and more convenient for both homeowners and professionals alike!
You can also further read our article on platform ladders with wheels here.
Handrails on step ladders can provide extra stability for the user of the step ladder, reducing their risk of falling or slipping off while using it.
Even if they may feel like they are capable of balancing themselves on a step ladder without holding onto anything (and this is true!).
Having some sort of support rail provides an added layer of security that makes completing tasks safer and more enjoyable!
Steps with handrails also reduce your need to use multiple tools at once in order to complete jobs around the house.
Making it easier to lift one tool up high enough so you won't need to step onto the ladder to reach it is a bonus.
This makes for a much safer and less cumbersome task!
Handrails on step ladders also make using them easier to use by providing another place to hold, especially if you are using taller step ladders.
If you can grip both handrails while standing on one leg as you climb a tall step ladder, this reduces your risk of falling off as well as being able to balance yourself better with two points of contact instead of just one.
A final advantage is that having handrails provides simple convenience as they offer body support and, with the extra space that a platform affords, you can set tools or materials down on them when needed.
Neither hands need to be occupied in case there's an obstacle preventing easy access from where you're working! A ladder with a handrail is a great investment for any homeowner or enthusiast.
Handrails can in some cases be added to your ladder. This will enable you to avoid accidents and feel more secure when working on the ladder for longer periods.
Most ladders do not come equipped with these safety features so they have to be added separately which can cost quite a bit of money or time if it is being installed by someone else.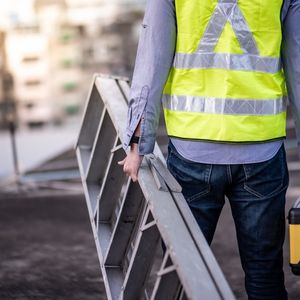 There are many different types of hand rails available but here at Best Ladder Access, we recommend something that attaches easily onto almost all styles and brands of step ladders as well as some other platforms too!
This means anyone from an average homeowners, electricians or construction workers can benefit from this simple addition to their tool kit.
The easiest solution however is to purchase a step ladder with the handrails already fitted by the manufacturer. This way you can have the reassurance that it's been thoroughly tested.
A ladder with factory fitted handrails provides a stable, safe way to access heights without having to need someone hold the ladder.
It is important because it can be used in many different ways and allows for easy transfer back down once you are done working on the ladder.
A ladder with a handrail (or handrails) also decreases your risk of falling by providing more opportunities for points of contact when going up or coming down from an elevated area.
They're great for people who have difficulty climbing ladders due to health issues such as arthritis or other physical limitations that make standing long periods of time difficult.
This makes step ladders with handrails the ideal solution for elderly users.
In addition, they provide greater comfort while ascending and descending since users do not need to lean forward over the side rails in order to climb safely which reduces strain on lower extremities like knees and ankles.
Step ladder with handrail suggestions
If a step ladder with a single or double handrail is for you, there are some great products out there. At Best Ladder Access, we have looked into this and have some great suggestions for you based on practicality and quality.
AutoFu 4 Step Ladder, Foldable Portable With Anti-Slip Rubber Mat
We thought we would start off with the 4 tread step ladder from AutoFu. For general tasks around the home, this is perfect. We also felt that this is the perfect solution for slightly older homeowners because of its double handrails.
It also benefits from a top rail which can be leant against giving you much more reassurance whilst carrying tasks at height.
The handrails benefit from having a soft sponge grip giving you little extra purchase on on the handrail. The treads are also a great size making it much more comfortable to stand on and negotiate.
They also benefit from having grippy rubber treads and the whole unit is foldable so it can be easily stored.
A smaller 3 tread version is available, also with double handrails and top bar!
Abbey Aluminium Platform Step Ladder with Handrail & Tool Tray
For those in the industry, Abbey is a well known manufacturer that is synonymous with producing quality products. This is a well designed and step ladder that is lightweight and good to use.
With 5 steps and a top platform making 6, it has a very acceptable working height.
The double handrail provides a seamless contact point at all times and a 600mm high top bar reassures you as you lean into it.
One great feature we liked was that the top bar was also a handy tool tray which is invaluable when you have multiple tools.
The treads are ribbed from the aluminium so give great grip under foot and the load capacity of 150 Kg will cope with most things.
The treads could be a little wider but we felt this was a minor thing for the price point.
5 Step Ladder Safety Handrail Foldable Anti Slip Width Mat
Our final suggestion is this 5 step heavy duty version. There were a number of features that we liked with these steps. They are quite tall so will be useful in more situations than a smaller set.
The treads are super large so are very reassuring under foot and give more comfort for longer tasks.
The slip resistant rubber mats on the treads also help to give you confidence. With a maximum load of 330 pounds, this is made to last and to cope with most tasks.
The top bar is also padded for a comfort grip.
The unit does benefit from having double handrails but they will have to be assembled but this is an easy task for most people.
It is slightly more expensive but it could avoid the need to purchase bigger steps of you were originally looking for a smaller set. They are built to last however and fold up for easy storage.
In summary
Step ladders are obviously one of the most useful household pieces of equipment you could own. The smaller varieties are perfect for those little tasks where you that little extra boost in height.
This could be for kitchen cupboards or watering hanging baskets for example.
Slightly taller versions can be extra useful as they can be used for tasks that are higher, like changing light bulbs on higher ceilings or reaching on top of wardrobes or kitchen cupboards.
Whatever the task, having additional handrails is always a good idea if you need a little extra confidence.