Loft ladder basics
Do you have a loft in your home? If you do, then this article is for you. Loft ladders are a great tool for helping you get up and down from your loft safely. They can make it easier to access stored items that you don't essentially need everyday that hide up there.
There are many different types of loft ladders on the market today. These ladders come in a variety of guises, so it's important to consider all of them before making a decision on which one is best for you.
They might be wooden or aluminium, come in sections or even be a concertina type expanding one. They maybe fixed or flexible enough to be used elsewhere around the home. In this blog post, we'll go over all the things you need to know about loft ladders to help you make an informed choice.
Wooden loft ladder
Many homeowners use wooden loft ladders to access the attic spaces in their homes. These wooden ladders go straight up and down with its sections sliding into each other.
The ladders can either be attached to the loft hatch itself or with some simple brackets be fixed to roof trusses, pushed up and retracted into your roof space.
Wooden loft ladders are easy to operate and look great. Very often, they are pulled down by use of a hooked pole.
The materials used to make wooden loft ladders are usually high quality wood , such as oak, cedar, hickory, maple, mahogany or yellow pine wood. Loft ladders are left unfinished by some manufacturers which means that finishing coats of paint or varnish must be applied by the consumer if desired.
Other manufacturers will apply an oil finish on the loft ladder which also allows consumers to choose between clear, semi-gloss or antique satin finish .
Wooden loft ladders are most commonly used in the home but can be found in light commercial settings as well.
Wooden loft ladders tend to have deeper treads which makes them more comfortable to climb barefoot or in slippers. They can also by their nature be heavier than aluminium types.
Aluminium loft ladders
Another common type of loft ladder are made from aluminium. Aluminium loft ladders are generally cheaper than loft ladders made from wood, but sometimes can feel less robust as they move more during climbing and creak a little.
This doesn't mean be any account that they are unsafe as they comply to stringent safety tests. They do squeak and creak when climbing but this is normal due to the lightweight design of the material and it's just the way they are.
Aluminium loft ladders are a highly recommended choice for loft access, loft conversions and loft storage as they are very easy to fit.
These loft ladders can be bought in a number of different specifications, all of which have their own benefits depending on your personal needs. If you have a loft to access fairly regularly then aluminium loft ladders will provide a lightweight solution that disappears quickly when not in use.
These ladders, like wooden ladders can be attached to loft hatches or with brackets, push and retract into your roof space.
Telescopic loft ladder
Another common loft access solution is a telescopic loft ladder. Telescopic loft ladders are made out of aluminium. The advantage compared with conventional loft ladders is they they require no physical fitting and require less space to store as they collapse into a very small space. They can then be stored in a cupboard or wardrobe.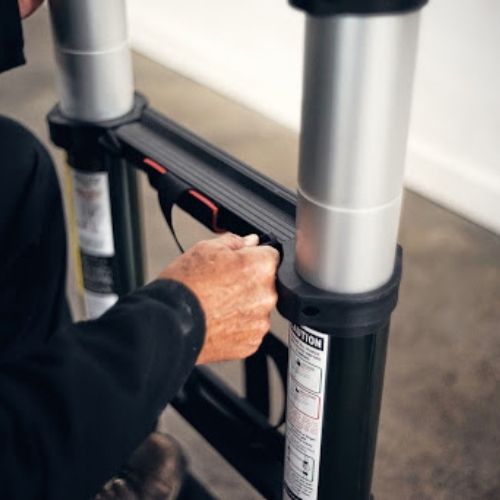 The telescopic loft ladder works by extending each part until it clicks thus making the ladder taller every time a section is expanded. Telescopic loft ladders are very easy to attach to any loft or roof space.
Just extend the ladder to the appropriate height and position the ladder in your loft opening, hooking it onto the loft beam and pull down until it's locked into place.
Telescopic ladders often come with detachable hooks, especially for this scenario.
The main advantage of purchasing a telescopic type solution is that it can also be used around the home for many tasks and is not limited for just loft access.
Again, because of the material they are made from and their design, they can creak and flex more than a fixed ladder type but this normal. They are perfectly safe if you appreciate they are just different.
Concertina loft ladder
Our final type of loft access solution is the concertina type loft ladder. This type of solution is made from aluminium and its clever design allows it to collapse into a very small foot print.
They usually have very easy and flexible attachments so are ideal for very small spaces.
Their flexibility means that it can be stowed directly above the hatch itself. Perfect if the pitch of your roof and the hatch location means that a wooden or aluminium type won't push back into your roof space. They are also very easy to fit!
(We recently had this scenario on my construction site!)
Loft ladder summary
Okay, so we have now covered four types of loft ladder solutions, wooden and aluminium types that come usually in 3 sections. This basically is to reduce the length of the ladder sections when collapsed so that they take up less space in your roof.
We have talked about the difference between these two access types, namely their weights and inherent characteristics when climbing them. These two solutions are "fixed" solutions so they will only be used for loft access as they can't be moved.
We have also covered telescopic loft ladders. These are a very popular solution as they are very easy to store near your loft access in a small cupboard or wardrobe. They also have the advantage of not needing any installation and can be used around the home for other DIY jobs.
Finally, we covered the cleverly designed aluminium concertina type loft access solution. These are again a "fixed" solution so cannot be moved elsewhere. The advantage of this type is that they collapse into a very small footprint that can be directly above your hatch.
This sometimes can be the only fixed solution if space is tight in your roof. They also are very easy to install. So, things to remember…do you want to replace your loft hatch at the same time? There are complete solutions that come with both the loft ladder and a new, insulated hatch.
How much space do you have above your hatch? Is there enough space to push a 3 section type into your roof without it hitting the angled roof truss?
If your hatch is near the roof edge, you may need to think about a different solution or making sure the ladder sections push in the direction of the roof trusses getting higher, typically towards the middle of your home.
You may want the easiest solution and not want the hassle so a telescopic loft ladder may fit your needs perfectly.
Loft ladder suggestions
With what we've discussed so far, here at Best Ladder Access, we have some great examples of the solutions we've talked about below. We hope they are of great help to you.
DJM Direct Deluxe Eco 3 Section Wooden Folding Loft Ladder
We chose the Eco 3 from DJM Direct because it easily fits between standard spaced roof trusses. This are usually 600mm centres so the gap between your trusses should be approximately 550mm which these ladders support. The other great features are that the 3 section ladder parts fold up and locate above the hatch. This reduces the chances of the ladder fouling your roof.
The Eco 3 comes with a new, insulated hatch so you can remove your old one and fit this complete system. We did talk about wooden ladders being slightly heavier earlier so a second helper would be needed to install these.
The ladder is assembled so installation is easy. As you get higher, a great feature is the handrail to help steady yourself. The Eco 3 also comes with a pull pole to bring it down.
It's constructed from Beech timber which is hard wearing so the whole system feels robust and reassuring.
Loft Ladder Youngman
What we like:
Amazon No.1 best seller
Quality established manufacturer
Lightweight
Fits inside your current hatch
Very easy to install
What could be better:
Not suited to raised loft floors on legs
As far as aluminium loft ladders go, you will not be disappointed here. Coming from the manufacturer Youngman, you know before seeing it that it'll be quality. Youngman are one of the choices of manufacturer that contractors go to for site robust equipment.
These are ideal for small spaces and for aluminium ladders, go one better and have wide, comfortable treads. The operation to extend them is very smooth as you expect from Youngman. The sections also have a safety shoot bolt system so that there is no chance of you getting a ladder section in the face!
This ladder easily fits into your existing hatch space and attaches easily with some attached brackets. You just have to ensure that you screw the brackets into the solid timber of your roof truss. Screwing into a boarded out section of chipboard for example would not provide a strong enough fixing.
Even though it's lightweight, it's very robust and reassuringly safe.
AutoFu Telescopic Aluminium Attic Loft Ladder with Hook Kit
What we like:
Comes in 3 different height variations
150Kg max load capacity
Reduces into very small space
Easy click and lock mechanism
What could be better:
Watch your fingers when retracting
We like the telescopic ladder from AutoFu because it has some great features. Starting from the bottom, it has these great rubber feet that provide great grip and stop the ladder from digging into your carpet. The rungs are also slip resistant giving excellent grip underfoot.
Extending the ladder is simplicity itself. Start at the bigger bottom section and pull up until you hear a click. You then know that your section is reassuringly locked into place. Retracting is easy too. You just need to remember to follow the instructions and keep your fingers on the sides as you depress the locking buttons and let the sections slide down. They do come down quickly which is why fingers should be on the side!
Finally, the AutoFu ladder top rung section comes ready to accept a pair of detachable securing hooks. These are really handy and give you the added confidence that the ladder will not go anywhere, especially when you lean back.
As mentioned earlier, these ladders have the advantage of being able to used anywhere around the home and even outside so you're not restricted to using them for loft access. With a maximum load capacity of 150Kg, this will cater for most people and is robust.
ALUFIX 10 Tread Concertina Loft Ladder
The Alufix concertina loft ladder is a perfect solution for those who don't wish to replace their loft hatch and have a small space. It's easy to climb when extended and perfect if you have limited storage space in your loft as it reduces and packs away above the trap door.
The ladder is made from lightweight aluminium and mounted on a specially designed carriage that is dual sprung. This makes the ladder very easy to operate. Deeper than usual treads give you plenty of grip and you'll feel safe when climbing.
The swing clearance is only 470mm so this loft ladder will fit into in the narrowest of hallways or landings. The concertina loft ladder is also supplied with a hook accessory so that you can easily fit to a brush handle for easy opening or closing.
This loft ladder will cater for floor to ceiling heights between 2.46m to 2.73m. It comes fully assembled with all its components. Alufix also include a kit to convert your existing "push up" door to swing down if you want it to.
Final thoughts
We hope that this article has been useful and given you some food for thought. The main things to remember are if you wish to replace your hatch or not. If you do, remember to check the dimension of the space inbetween your roof trusses.
Other thoughts might be how much space you have in to your loft for the ladders to push into without hitting the roof. You may need a smaller solution that packs away above the hatch.
You may may also need a solution that is not fixed and you can use the ladders around the home.
Happy purchasing and be safe!