What are fibreglass ladders?
Ladders and step ladders can be made from many materials. This can be aluminium, timber or fibreglass. All materials have inherent properties which suit different situations. Because fibreglass is lightweight, robust and a poor conductor of electricity, it is primarily used by electricians so they are not earthed to the ground and are insulated from live electricity.
Fibreglass ladders are also commonly sold as fibreglass step ladders. They are also used by tradesman like plumbers and carpenters because they're lightweight, sturdy and non-conductive. They can also be used at home by DIY enthusiasts for jobs around the house.
Aluminium has many of the same properties as fibreglass with one major difference – it is not a poor conductor of electricity whereas fibreglass is. This means that using fibreglass ladders and not aluminium in some places where electricity is present, such as high voltage substations is recommended.
It can also protect you in a domestic situation where drilling a live cable will earth through you for example. For longer duration tasks, a fibreglass or GRP tower might be a better solution. You can further read our article on fibreglass and GRP scaffold towers here.
Why use fibreglass ladders?
Fibreglass ladders are fibreglass step ladders that electricians use because of their resilience and insulation properties. The fibreglass used must be thick enough to hold 350kg without breaking, so it can hold an electrician's weight when they need to work with live wires.
These types of ladders must also comply with the latest legislation. You can further read our article on UK ladders classifications here.
A fibreglass ladder is made from fibres which is covered in resin, giving them a glass-like appearance. This makes fibreglass ladders durable and strong against harsh conditions such as heat and cold. Unlike wooden ladders, fibreglass is very lightweight and easy to carry around for extended periods of time.
It has low conductivity, which prevents electrical currents from travelling through the fibreglass. This makes fibreglass ladders excellent for working near power lines as they can easily fit into tight spaces and be stored away easily without taking up too much space.
As fibreglass is such a poor conductor of electricity, fibreglass ladders protect electricians from any electrical current that may come through the wires.
How to use fibreglass ladders?
Fibreglass ladders and fibreglass step ladders essentially work exactly the same as any other aluminium step ladders in their operation. They will consist of a ladder section with step treads on one side and a braced section the other side forming a 'A' frame.
They will also have folding 'stays' which prevent the sections from spreading apart. Fibreglass step ladders will most be recognisable by their bright yellow and blue colour makeup. This makes them recognisable from as distance.
When to use fibreglass ladders?
As we have touched on the previous paragraphs, fibreglass ladders have properties such as being a good insulator from electricity, being light but also robust. This means that can easily be used in place of aluminium ladders if needed. They also give you the peace of mind that if you hit a live cable during some DIY, they will afford you protection.
So, fibreglass ladders can be used anywhere an aluminium ladder can but are preferred when working where live electrics maybe effected.
How does electricity give you an electric shock?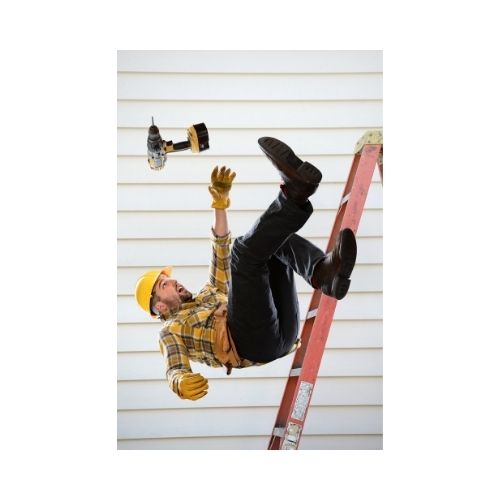 Electricity can be seen as a hidden danger and even a hidden danger that can cause death. Unlike many other dangers, electricity can't be seen, smelt, heard or felt. You may not even know that a cable is live until you touch it.
In order for electricity to shock you, a live circuit needs to complete a full cycle and be earthed. This is normally by the person in contact with the cable.
Electricity flows through a circuit which consists of a live cable and a neutral cable. An earth is created by the live current passing through you and into the ground via any material that conducts.
If you had a shock while standing on aluminium ladders, the current would pass through you, through the aluminium ladder and into the ground. If you had the same shock whilst standing on fibreglass ladders, you would be insulated from the ground as they are a poor conductor and not earthed.
Live cables can be worked on by trained personnel and I have indeed witnessed trained professionals working on live high voltage cables using purpose made insulated clothing preventing them from being earthed.
A final thought can be given on how circuit breakers work. These are found in your consumer unit and used to switch off certain circuits in your home like sockets or lights. They are very sensitive and work by cutting (or tripping) a circuit before a current can carry out a full cycle and earth through you.
5 tread fibreglass step ladder
Werner Fibreglass Platform Stepladder 5 Tread
What we like:
Very robust
Has platform
Holster tray provides body support
What could be better:
Hard to find drawbacks with Werner products
From Werner manufacturer, we at Best Ladder Access have no reservations in recommending them. They are extremely robust and very strong. They can take a lot of punishment and stand up to the construction site environment.
We like this style of step ladder because of its top tread having enough space for both feet. The higher designed holster top gives you additional support when leaning in.
Being made from fibreglass, they will not absorb moisture, rot or corrode. The platform height of 1.17m enables a safe working height of 2.92m so this ladder is ideal for any job around the home.
6 tread fibreglass step ladder
Werner Fibreglass Swingback Stepladder 6 Tread
What we like:
Quality manufacturer
Slip resistant treads
Tool holders on top tread
What could be better:
Hard to find what could be better!
Coming from the manufacturer Werner, you know that this ladder will be a quality piece of equipment. Werner are one of the most preferred makes of ladder systems for tradespeople on site. Most people on my site will be using them.
This particular model benefits from moulded bracing and a footpad combination which gives enhanced strength foot base protection. A great feature is the specially moulded holster top which allows you hold tools or even a pot of paint securely without it sliding off.
It's specific yellow and blue colours show that it's fibreglass and affords protection for live electrical work.
This is one very robust ladder that won't disappoint.
7 tread fibreglass step ladder
Youngman S400 Catwalk Fibreglass Step Ladder 7 Tread
What we like:
Industry established manufacturer
Tested to 30,000v
Slip resistant treads
What could be better:
Not much!
We have put this step into the frame because again, Youngman are synonymous with the construction industry. I could easily walk around my site now and find several Youngman products.
This is another robust 'A' frame ladder which being 7 tread, affords you a greater height whilst being stable. This particular ladder from Youngman has even been tested to withstand a 30,000v shock!
This model also incorporates a handy tool organiser on the top holster.
Final thoughts
We have covered a lot of the key points of why fibreglass ladders and fibreglass step ladders are useful in certain situations. They were invented and primarily used by electricians or by DIY enthusiasts where there is potentially live electrics. Typically with older properties, even when a circuit is isolated, there may still be a live cable somewhere that has been put in by an unqualified enthusiast!
Due to inherent characteristics of fibreglass, they are a good insulator against electricity so they will insulate you from the ground which is how you receive a shock.
They are robust, tough and in most cases can be used as would any other step ladder made from aluminium or timber.